About Us
Kotsis Travel Services is a coach rental company based in Igoumenitsa, Greece. For more than 15 years, we offer a wide range of bus rental services to customers all over Greece and Europe. During this time, we have managed to build a relationship of trust with our customers, providing them with comprehensive, high-quality services that meet their requirements while being reliable, secure and affordable.
Our experienced team of guides and support staff will look after you in every detail. We want to ensure that our customers continue to return to our company. We choose our guides personally to ensure care, skills and experience are met. We continuously update our quality policy, road safety policy and environmental policy.
We have a wide fleet of modern vehicles including limousines, vans, mini buses and coaches. Our range of vehicles can easily accommodate from 8 to 63 passengers and this allows us to meet all vehicle rental requirements. Our fleet is always maintained and continuously upgraded to ensure safer and more reliable services.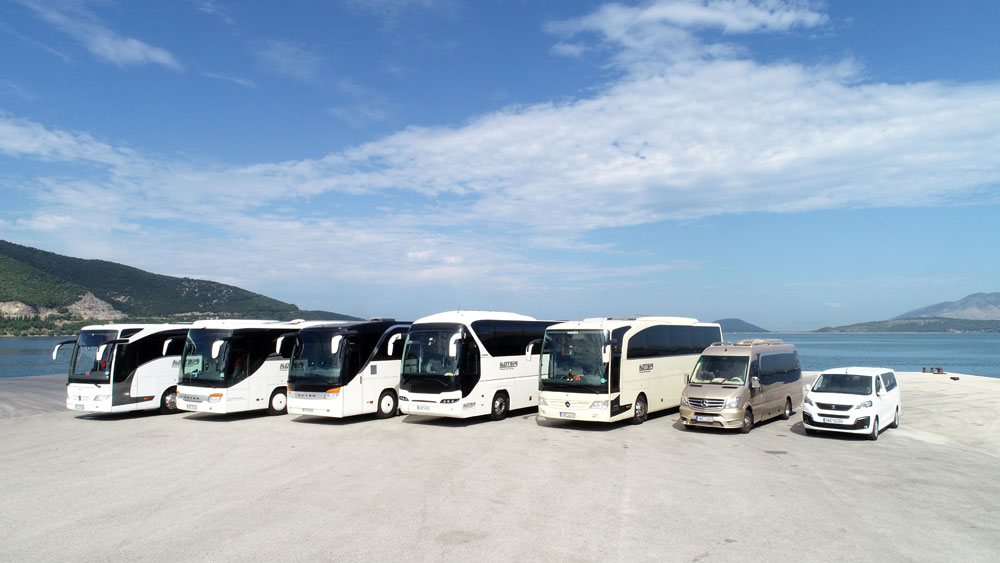 Kotsis Travel allows you to create the perfect holiday package, suitable for your needs.
Choose your ideal hotel, cruise, ferry, flights, transfers, plus any other travel arrangements you may need, and create something spectacular. Something just right for you. Travel with confidence. Create your own custom vacation package. From beach resorts to family vacations, we are able to assist you in every way possible you can imagine.
We have been serving the top business companies in Europe for over 30 years. We can assist you as a professional coach hire company for airport transfers, guided tours, historical trips, school/college trips, wedding trips and so much more! We are available for consulting and provide you with the best information you can possibly get, regarding your trips. As one of the most well-established online travel agents in Europe, with thousands of holidaymakers booking each year with us, we are most willing in helping our customers book their holidays. We have been doing this since 1975.
We are an IATA Certified Agent and our company has been credited with an LL-C ISO9001:2008 as an honor to our quality management system in General Tourism, Travel Services and Transports. This only proves our commitment to serve with the highest quality standards available. Our company specializes in the following areas of travel services:
AVIATION AND FERRY TICKETS
We take reservations for airline and ferry tickets to any destination worldwide, both for individual and for group traveling.
HOTELS
We offer extremely low prices in hotel bookings worldwide.
CONFERENCE TOURISM - INCENTIVE TRAVEL (INCENTIVES) GROUP TOURS OF SPECIAL INTEREST
We have a department with specialized personnel in the organization of conferences, seminars, exhibitions, banquets and all kinds of organizing scientific, social and tourist interest. We organize tourist packages of special interest such as sports trips, religious trips, historical trips, cultural trips etc.
ROAD TRANSPORT
Coaches: Our fleet of luxury coaches and our experienced professional drivers will transport you wherever you want throughout Europe.
TAXI
Employing polite and linguistic drivers, we move our individual customers from and to any destination.
HONEYMOON
For the most important journey of your life, our qualified staff will take care to satisfy everything you have ever dreamed of.
CHARTER FLIGHTS
Our specialized staff will offer the best possible way of flying to your destination.
MARINE TOURISM
We undertake reservations for cruises as well as for the rental of luxury boats in order to promote marine tourism.
ENVIRONMENTAL STEWARDSHIP
Our company's business has developed over the years by being mindful of our environmental impact as well as our sense of social and economic responsibility. Therefore, we are commited to meet the highest available certifications and standards:
Our own garage brand

ISO Standard 140001

CO2 goals: holiday transport with the lowest emmisions possible
Our drivers are also trained in environmental responsibility, and they are given eco-friendly driving education.
Travel Services Offered
Organized Tours in Greece and abroad

Individual Travel

Cruises

Incentives - Conventions

Travel Club

Business Travel

Flights

Honeymoons

Spa Packages, Theme trips
Hours of Operation for our Central Office:
Daily from 09:00 to 14:30 and 17:00 to 21:00. Sundays from 11:00 to 14:00

Hours of Operation for our office which is located at the New Port of Igoumenitsa:
Daily from 14:00 to 10:00 p.m.